The Living Water Farm
Living Water Farm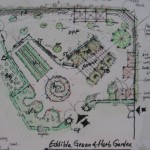 The Living Water Farm is a newly designed farm on the north-east corner of the Myra House. This farm project became possible thanks to our current residents' unwavering commitment. Furthermore, some young adults from WWOOF (Worldwide Opportunities on Organic Farms) have joined us to help out and learn ecological farming practices. Convinced that our choice of crops has significant consequences for both our human health and the planet, we have converted our own land from a pleasant landscape to a sustainable source of life. In addition to reusing discarded carbon boxes, newspapers, green waste and recycled plastics, this farm will:
Assist conservation watering of vegetable beds, herbal mounds and fruit trees with living water from a 30,000 gallon biologically-balanced lily pond.
Boost soil quality by using a crop rotation method (4 year cycle) with soil amendments using homemade fertilizers, homegrown green manure, and earthworms.
Cultivate a habitable hedge for diverse wild life companion species by providing edible ground cover perennially.
Develop an optimal plant and soil health through in-house testing and monitoring of soil pH, nutrient balance, rainfall, soil moisture, temperature, sunlight, and soil fauna.
Engage in the natural management of pests, diseases, and weeds by inter-planting with companion plants or pathogen-deterring herbs, and clustering fruit trees with incompatible plants.
Foster community involvement, research, and education for the development of indigenous knowledge systems that support the local peoples and environments needs.
Generate interaction opportunities with our global friends and partners in sustainable development.
Harvest various vegetables and herbs in abundant quantities and safely through strip cropping, companion plantings, vertical growers using twig tepees and low-n-high trellis, and with a year-round sequential yield technique.
We would love to have you join us on the Farm Open House day. At that time, you will have the
opportunity to see our project more closely, sign up for co-op membership and be more involved with the
life of our farm.
Visit our weekly progress or check out our most recent news and updates.
Thank you so much for all of your support!
 Attention Local Restaurant Owners!
Do you own a local restaurant? Do you firmly believe in serving the best local and organic ingredients?
Living Water Farm is seeking partnerships with local chefs and restaurant owners.
Below is a a flyer with detailed guidelines and information.