Earth Day Celebration & Sacred Singing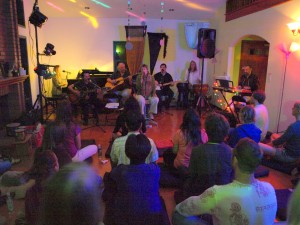 Everyday has been Earth Day since the farm project was started a year ago. Like farmers, our hands hardly take a day off from the daily responsibilities unfolding each season. We water, trim, weed, till, sow, plant, harvest, replant and make composting teas. However, because of all of these accomplishing works, we were blessed to have a feast-like event on the last Sunday of April.
How splendid our Earth Day celebration was! Numerous blooms were busting out and fresh shoots were flourishing in the garden. It was a perfect day to capture the highest zest of the spring season. "Sacred Singing and Soulful Soup" was held by James Jolicoeur's artistic zeal and facilitating efforts. A radiant gold color banner stood straight up from the ground to the sky affirming a celebratory "peace" on earth. Designed by Cori Griffin, the banner stood at a size of 2 feet by 10 feet. Cori's other semi transparent artwork seemed to embody her conception: healing by sanctifying grace. Each hanging fabric piece danced back and forth freely letting go of itself by the sway of the eastward gentle breeze. The multifaceted bright color tones spread out as the crimson orange sun shined through.
The event drew about sixty people and left us precious memories of our enchanted mother earth and how our souls were nourished. A group of people began with a tour of our farm. They meandered through the path, around pond, and walked in labyrinth garden. The participants also engaged in arts and crafts. Each participant was able to create one's own motifs with raw materials from the garden. The supper menu consisted of vegan carrot soup made with coconut milk. The organic ingredients came from the farm's onions, leeks, sage, rosemary and whole wheat croutons. Other food items included: quinoa tabouli and chilled gazpacho tacos in romaine lettuce wraps; stew bruschetta made with our farm's fava beans; gluten free banana chocolate mini chips from Thumbkin Oven; organic bread from Le Pain Quotidien, and hand embellished Star Fire Water bottles for every guest. Relaxation treatment was provided on two portable therapeutic beds. A Guinness Book world record holder, Kim McWilliam, amazed us with her magical hula hooping performance.
Accompanied by six talented musicians, Presence, a singing minister who was not related any religious affiliation, led the music with an angelic smile. Songs were like simple prayers and each song was about peace, beauty, forgiveness, love, trust and gratitude. In the process of singing together, skill or logic did not matter as much as redefining worship. Simply singing was good enough creating a wholesome space of intense harmony and unity. Each singing moment was a simple invitation of connecting with the Divine presence. This soulful event indeed satisfied our inward need emotionally and spiritually tapped into the source of what we really desired.
It was perfect day to remember why we celebrate Earth Day as such way. This day also reaffirmed why Myra House exists and for what purpose. Our deep gratitude is for everyone who made the day special. This Earth Day gathering will be remembered as a genuine feast because each person was contributing not only own time and talents but also physical and monetary supports. Great thanks to Evyn Le Espiritu who gave us a chance to enjoy the scenes of the event at here (YouTube).