Myrahouse Press
Quest of Holy Space
A brief article describing the designs and aspects of a functional worshiping space.
Click Here To View PDF (Korean Version)
_________________________________________________________________________________________
Global Village Era, Jesus Community Model
Guidelines for creating a contemporary, open-face community in a modern society.
Click Here To View PDF (Korean Version)
_________________________________________________________________________________________
Perfect Love Story in Imperfect Society: Myra House Love Story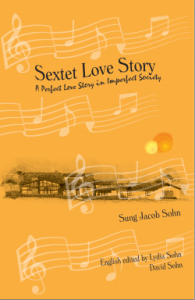 Click to download the cover [PDF]
The book is about a Korean immigrant family's life journey where perfect love can be
found. This book consists of six chapters. Each chapter complements the other so as to
weave one single story. Each chapter is categorized by subjects with additional questions
for further contemplation, practical application, and group discussions. A brief summary of
each chapter is as follows:
First chapter, a Christian school boy met a Buddhist school girl and shares the details about
their nine years of dating and twenty four years of living as life partners as they raise two
kids. In this chapter, some fundamental questions are raised. How does a dating story turn
into a love story? Why do couples break up so easily today? What can transform a loving
relationship into a lifetime partnership?
Chapter 2, 'Love of darkness' deals with personal
inner conflicts-insecurity, devastation, disappointment, failure, separation, and hurt that one
may experience through unexpected incidents at school or work as we live our lives as
immigrants. The chapter ends with the following questions. Why do young adults easily
give up on themselves? How can they overcome the darkness? What does it mean to love
the darkness in their life?
Chapter 3, 'Love of God' is a story about author's personal
reflection in experiencing God from an early age. This story also deals with the existence
of God, theological questions and answers transcending the conflicting relationship
between religion and science, and an understanding and affirmation of faith through such
personal experiences. This chapter addresses the following questions. Why do young adults
deny the existence of God? How can they encounter with God? What does it mean to love
God?
Chapter 4, 'Love of self' reveals his own personal life. The first part of the chapter
begins with the experience of being separated from his own birth mother at an early age
that is followed by an unhappy childhood. Author shares another story about giving up his
profession as an architect in order to become a pastor and about the realization of true self
through faith, knowledge, and experiences. This chapter closes with the following
questions. What does it mean to love oneself? Why do many young adults get lost in
searching for their identities? How can one find her/his vocation?
Chapter 5, 'Love of
neighbor' depicts a story about reconciliation and forgiveness between parents and children
and also between spouses. It is a story about engaging with suffering neighbors through
forgiveness and reconciliation. The closing questions are: who are our neighbors? What
does it mean to be neighbors? How can we love our neighbors?
Chapter 6, 'Love of nature'
highlights the correlation between human's physical and psychological suffering and the
damage of the eco-system. Having realized the intricate relationship between the two,
author turned to an ecologically organic lifestyle to promote the sustainability of planet as
well as the sustainability of his family's health. This chapter addresses the following
questions. Why are so many people indifferent and insensitive to the eco-system? What can
we learn from living an organic lifestyle? What does it mean to love nature? This book is
targeted to reach out the following young religious fellows. The first group of people are
those who are interested in moving to the states to study abroad or for settle down with
their families. The second group is for those who were born in the U.S as immigrated
descendants who are now trying to find their own American identity. The last targeted
group of people is non-religious, who are interested in the multi-cultural life. Author writes
this book for the following reasons. First, he desires for those young adults fellows to
mature their faith through their own spiritual experiences. Second, he wants them to build
relationships with those from different religious traditions, who are not religious, or who
are atheists to create a peaceful world without religious conflict and war. Third, he wants
them to pursue an earth friendly life to protect our planet. Fourth, he wants them to be in
charge of the well-being of the global community along with other ethnic young adult
leaders. In order to reach out to the younger generation, author deals with the interesting
issues that the young adult generation faces today.
Reviews
"This naked love story moved me to tears. It is purer, truer, profounder, sublimer, and more
beautiful than the story of Romeo and Juliet! The Sextet Love Story is a poignant story of a
human being yearning to share his love with a woman, family, commune, community,
nature, and God. Here is the gentle wisdom of life from a beautiful mind for you and me! I
finished it in one sitting."
Andrew Sung Park
Professor of Theology
United Theological Seminary, Dayton Ohio