Herb Mound
A DEEPER LOOK INTO A VISION
      


Below you will find a few of the herbs we have chosen to grow, along with some back ground information and some possible ways the plant may be used.
Latin Name: Andropogon Citratus
Gramineae Family
Edible Parts: Leaves (Raw or Cooked)
Medicinal Uses:
– As a oil it can be used in aromatherapy and aids a sprain
– As a tea it helps to reduce fever, disordered menstruation, vomiting, diarrhea, and gas
      Culinary Uses:
– Good in teas and an essential ingredient in Thai food
Latin Name: Hyssopus Officinalis
Labiatae Family
Edible Parts: Leaves and young shoot tips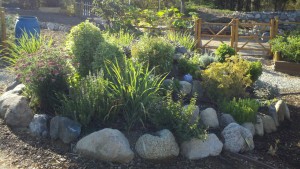 Medicinal Uses:
– Expectorant
– Stomach tonic
– Treats bronchitis and respiratory infections
– Essential oil used in aromatherapy, key word is " Stability"
* Should not be used on high strung people, should not be used internally unless with professional supervision
Culinary Uses:
– Flowers (raw) can be added to salads
– Can be used for flavoring in soups or salads
Latin name: Achillea millefolium
Compositae Family
Edible parts: Leaves (Raw or Cooked)
* Can be used fresh and dried
Medicinal Uses:
– Can be administered internally or externally
– Treats colds, fevers, menstrual pain, kidney diseases
-Valuable for treating wounds and stopping the flow of blood
– Combines well with Elder and Peppermint to aid in colds and influenza
– The fresh leaf can be applied direct to an aching tooth to relieve the pain
– Extended use of this plant either medicinally or in the diet, can cause allergic skin rashes or lead to photosensitivity in some people
Culinary Uses:
-Bitter flavor, exceptional addition to mixed salads
– Leaves can be used as a hop-substitute for flavoring and a preservative for beer
– An aromatic tea can be made from the flowers and leaves
Latin name: Tanacetum parthenium
Compositae Family
Edible Parts: Dried Flowers
Medicinal Uses:
– Well known for its treatment of migraine headaches and rheumatism
-The leaves and flowering heads are anti-inflammatory
-Use with caution, the fresh leaves can cause dermatitis and mouth ulcers if consumed
Culinary Uses:
-A tea can be made from the dried flowers
-Dried flowers can also be used in flavoring certain pastries
        

MOTHER NATURE
         Live in complete harmony with Nature,
         Experience the grace of God in the
         Splendor of the universe.
         Be blessed by God's reassuring love,
         The sweet dawn will sweeten your soul,
         The dazzling mid-day will set your

         Hearts aflutter,
         And the serene music of your soul will
         Guide you towards peace and prosperity.
         And when the day's task is over you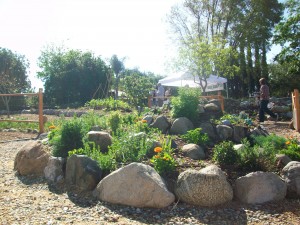 Will sleep in the lap of Mother Nature,

         All the deities will be favorable to you.
                                                               -Rig Veda