W.W.O.O.F. Point of View
TRANSFORMING LAND and SPIRIT
July 20, 2012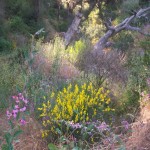 How surely gravity's law, strong as an ocean current, takes hold of even the smallest thing and pulls it toward the heart of the world.
Each thing- each stone, blossom, child- is held in place.
Only we, in our arrogance, push out beyond what we each belong to for some empty freedom.
If we each surrendered to earth's intelligence, we could rise up rooted, like trees…
-'Wenn etwas mir vom Fenster fallt' from Rilke's "Book of Hours (Love Poems To God)"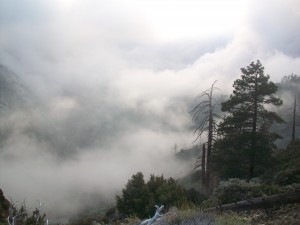 July is here, and with it we are thrust into summer, with all of its blessings and challenges. Looking back at the last few months, I can hardly believe how much has happened around the Myra Houseand all of the adventures we've been on since my arrival in March. Nor can I believe the incredible progress we've made toward the completing the Living Water Farm (LWF) and further integrating it into the surrounding community.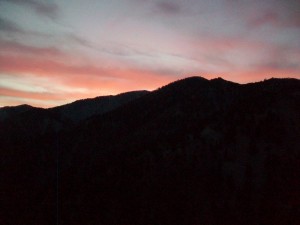 Throughout May, June, and thus far in July, we've harvested (and enjoyed) lettuce, onions, strawberries, blueberries, peaches, blackberries, peppers, squash, zuchini, arugula, Swiss chard and other goodies that back in April were just settling into our freshly-prepped soils. Not only has the produce fared better than expected, we've all learned a great deal about working together in unison on a project with its fair share of obstacles from the beginning. Some of these challenges have come in the form of unexpected setbacks. For example, tomatoes turning yellow? Add fresh compost to the rooting layer (without disturbing the roots themselves), cover with mulch and water. Bugs eating your eggplants? Spray the leaves with diluted, biodegradable laundry detergent every one or two days until insect damage significantly declines. And then there are gophers. Don't even get me started on  gophers…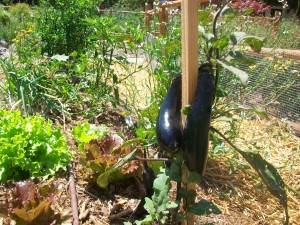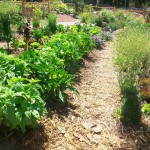 Point is, there's a lesson to be learned in all of this. For every problem we face, somewhere out there is a solution, just waiting. Often simpler than we expect, most of these solutions can be carried out through natural, low-impact means.
Working with the natural resources available to us has created a wonderful sense of balance and ingenuity that resonates throughout the farm. We avoid conventional, synthetic compounds used by many producers in conventional agriculture in favor of our own natural fertilizers and pest control methods. What production scale our techniques can be applied to remains to be seen, but in light of our progress, I remain optimistic that the LWF will continue to act as a beacon of hope to those who pass through its gates and take the time to understand its design principles.
As for news around the house, we are blessed to have David, Myra and Sungs' son, back in the residence after finishing his first year of law school. David's positive energy and vibrancy adds volumes to the Myra House living experience. Not to mention his moves on the basketball court.   We've also begun to raise 12 freshly hatched chicks, all of whom are being cared for of by our newest resident (and now poultry care expert), Kristi. Once mature, our chicks will be a dozen egg-laying hens, complimenting our other 12 hens currently residing in the large chicken coop. We already moved all 12 chicks into the outdoors, where they spend their days pecking and scratching the ground in our homemade "chicken tractor", a coop on wheels allowing for continual relocation and metered organic fertilization. Worth mentioning as well are the recent improvements made to our drip irrigation system throughout the farm and the surrounding gardens. This modern drip system greatly reduces our water usage and losses as Summer continues to heat up.  After all, you don't have to pay for what you haven't used.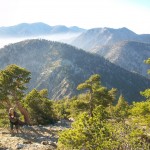 Over the past three months, the crew and I have gone on some wild backcountry treks into the San Gabriel Mountains that these photos hardly begin to capture. Places like the top of Cucamonga Peak, San Antonio Falls, the 10,064 foot summit of Mt. San Antonio aka Mt. Baldy (http://en.wikipedia.org/wiki/Mount_San_Antonio), and plenty of other trails have kept us constantly amazed as we climb into the heights of one of LA county's last pristine wilderness tracts. Looking down through the Baldy summit's crystalline air into the lower elevations, I see the dust and air pollution blanketing greater Los Angeles and wonder if our nation's and states' latest air quality provisions can keep up with the rate of expansion seen in cities like LA, Chicago, and New York. The more we do now, the more benefits we'll reap later on. If I say nothing else about my time in the San Gabriels, I'll say this: these mountains are a true haven for the weary Southern Californian. Always closeby, yet so far removed from the busy pace of life surrounding them. What a privilege it has been living adjacent to peaks as calming and inspiring as these.
Moving on, the Myra House and LWF community are all very excited about hosting a July 29th celebration of Sue Carlisle's birthday, which includes the beginning of our "Sustainability" lecture series. Ph.D candidate Vanessa Kettering, M.A.,  a longtime friend and contributor to the Myrahouse will deliver the keynote speech, while Dr. Guntram Ramutis will respond to Vanessa's address. Covering topics such as the LWF's impressive productivity despite minimal use of soil amendments and ways we can live "mindfully" every day, this is definitely one of the summer's highlights. Not to mention the food and drinks… Above all, this first lecture series about the LWF marks a crucial transition from vision to reality for Sung, Myra, and the entire Myra House community. After years of planning and strategizing, this great pie-in-the-sky has finally been brought down to Earth. These are exciting times!
In closing, we look forward to hosting more WOOFers (just like me) in the near future and IMPORTANT: the Living Green Market (Sat. and Sun. 9am-12pm) is closed until September for research and general maintenance of the LWF. We apologize for any inconvenience and intend to have an even better market in the months ahead. Going back to Rilke's poem, let's consider what it means to recognize the Earth's intelligence and to be rooted like trees. Storms come and go, but a life led by the principles of sensitivity, respect, and awareness of the greater web of life surrounding us can remain steadfast in spite of lightning and thunder along the path.
Peace be with you. And be sure to give us a call at 909-624-4648 or email us at: stephen@myrahouse.com if you'd like to stop by for a visit. This is WOOFer Nate, signing out.
A VISION COMES INTO FOCUS

4-25-2012

The coffee this morning awakens my senses. The aroma and taste of the freshly ground cup brings my spirit to new heights. I decide to enjoy it outside. While exiting I am greeted by our Akita dog, Gomy. I am distracted only for a moment. My eyes intuitively lift and are rewarded by the scene in the distance. Vast snow covered ridges and valleys of the San Gabriel Mountains stare back at me. I am in awe. Suddenly I remember again why I am at the Myra House -why I am helping to create The Living Water Farm.
The mountains remind me of all the natural beauty surrounding us; beauty that can often pass by unseen. This is the light that our creator has bestowed upon us -a light that can be rekindled by ourselves and between one another. These same thoughts come to mind when witnessing the journey of the Living Water Farm. Through commitment and perseverance we all created something just as mesmerizing, on a scale more suitable to our own lives.
—- Herbal Mound —-
As you enter the garden you are greeted by an impressive and lush herbal mound. An all-organic cast of medicinal and culinary herbs such as fern leaf dill, chocolate mint, golden oregano, and tricolor sage are spiraling upwards to the top. The herbs are accompanied by companion plants and are surrounded by spiraling rocks, symbolic statues as well as teapots.
The inner beauty of the herbal mound is in the foundation. Beneath it all is a two ton redwood trunk covered in rich soil and organic compost. After many years it will fully decompose and become an extraordinarily nutritious source of energy for the garden. The herbal mound also features drip irrigation: an irrigation system that incorporates minimal water, minimal maintenance and still provides sufficient nutrition to the soil. An amazing part of the herbal mound process was watching the redwood giant being carefully hoisted by a crane into the air and slowly guided into the center of the garden! Wow!
—- Vegetable Bed —-
As you half circle either side of the herbal mound you inevitably approach the main vegetable bed in the garden. The all-organic vegetable bed features Mei Qing Choi cabbage, California Wonder peppers, Red Romaine lettuce, Italian Large Leaf basil, Millionaire eggplant, Anaheim chili peppers and other various edibles.
Two wooden edible berry fences and a Burgundy Plum tree overlook the bed. One fence supports an eight foot long bamboo basket housing Mignonette strawberries. Planted at the base of the tallest adjacent fence are organic fresh Goji berries. Other various berry fences accompany the garden throughout. All fences will eventually be covered in delicious edible berries.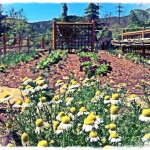 —- Diverse Fruit Forest —-
Beyond the vegetable bed, and around the garden is the Diverse Fruit Forest (D.F.F). Containing a wide array of fruit. Yellow Flower apple, Anna apple, Fuyu persimmon, Asian pear, Avocado, Fukimo Navel orange, and medicinal trees such as Passion flower and Chaste tree are spread throughout. What makes the D.F.F. so unique is its water channeling system. The irrigation canal starts from the Fuyu persimmon, extending and connecting to passing trees and then to the last tree, the kumquat. This system helps rainfall travel naturally along the declining landscape. The water is then channeled through and trapped in the accompanied stations dug around each tree.
—- Green House —-
All of our current farm plants begin as starters. It is important to have an environment that helps sustain plants in their earliest stages. The function of the green house is to provide a nurturing low-stress environment for our seed starters, which helps facilitate a successful beginning. Then the infant plants, after growing and adapting, will be transplanted into the garden for further growth.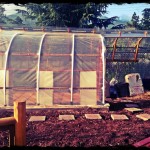 Substantial progress has been made and we look forward to opening our farm to the surrounding Claremont community very soon and providing memberships along with volunteer work.
Come and experience the Living Water Farm for yourself!
 —————————————————————————————————————————————————————–
—- Myra House Community Update —-
New members have arrived to provide aid to the development of the Living Water Farm. Our new WWOOFER Nate, a college graduate of the University of Minnesota and native Californian, brings new energy and experiences to the Myra House. Also, our new resident Kristi, a Reiki practitioner and Claremont native, brings positive feminine energy and balance into the home. After pouring so much energy and emotion into the garden, Myra House community members still find time to partake in spiritual retreats. Hiking is an activity shared by all of us here. When we can see the trails from the garden, it easily turns into a weekly activity. It's never rare to find ourselves deciding on a moments notice to walk the winding paths and scale the beautiful hills that surround us!
As a lifelong resident of the state of Alabama, US interstate 40 provided me many opportunities to question exactly why I was spending 3 days in my car with multiple 12+ hour exhausting days of driving. However, as I woke up in New Mexico and had a very scenic drive through Albuquerque on to the Grand Canyon, I knew exactly why I was doing this; to make a better, solidified, and lasting commitment to living not only ON the Earth, but living WITH it as well.
As I arrived at Myra House, I was greeted by many new faces. In addition to the very welcoming Sohn family, I was introduced to the resident director, Andrew, and his co-resident Steven. My co-WWOOF'er Malcolm had been here working for two weeks already, and Burk had arrived earlier in the same day. Having heard great things about Myra House from a friend and colleague in Alabama, I was very excited to be a part of this organization. It was instantly apparent that Myra House had already put in years upon years of work to making a sustainable living environment, and i felt like I had arrived at a place that could benefit from my work and contribution while simultaneously teaching me many lessons about keeping the land in a holistic and sustainable environment. These goals seemed very attainable at Myra House, especially when I saw how beautiful the completed parts of the garden were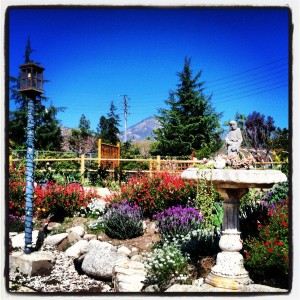 Having driven across the country, I was too exhausted to move and slept most of Sunday night, unfortunately missing my first meditation. However, I awoke Monday to a full week of sun, hard work, and difficult but achievable goals. One of the first projects we began tackling was turning the raw, untilled land of the diverse fruit forest (DFF) into a walkable, sustainable, and productive forest. After flattening out most of the dirt and hauling the extra away, we were left with a slightly more manageable, but still raw, piece of land.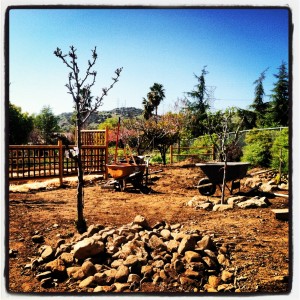 This Fruit orchard contains trees ranging from a blooming kumquat to a baby avocado to some flowering pears. However, the desert climate of this area does not provide the steady and large amount of water needed to keep these deciduous trees alive. With the remainder of the week, we were set with the task of beginning a drainage and irrigation canal from the top tree all the way down to the drainage ditch at the bottom of the forest. This trench is going to be 2 feet deep, following the natural incline of the DFF in order to catch as much of the rainwater during our sparse rain showers as possible, thus preventing the need for a wasteful sprinkler system. By the end of the week, we had not only cleared most of the land, but also made significant progress on the foundations of the canal.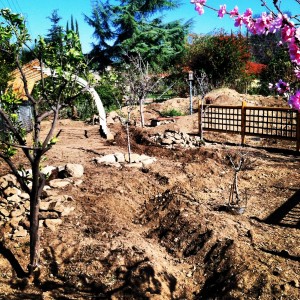 While Andrew and Dr. Sohn and myself worked on the DFF, Burk and Malcolm were set to the task of building up the vegetable garden from raw dirt to a beautiful bed of nutrient rich, arable soil in which we could plant our vegetables in time for spring. This project consisted of leveling out the bed, laying chicken wire and redwood slices at the bottom to prevent pests and add nutrients, and then building up a 4-6 inch layer of fertile topsoil. Though they were only a few dozen feet away from us in the DFF, it seemed difficult to track their progress. However, each day the vegetable garden looked better and better, and by Wednesday and Thursday, the remainder of the redwood had been lain. In the middle of the project, we had a very good foundation for the veggies.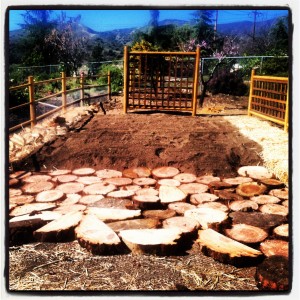 As the week flew by, we continued to tackle our challenges head-on, and by Sunday we had completed all goals set for the week and progressed on to new parts of the living water farm project, beginning with digging out a 3 feet deep hole for a marshland next to the vegetable garden. This will serve not only as a water source but also as a potential addition to the garden, providing a natural habitat for water plants and a haven for birds and other animals that will contribute to overall pest control at Myra House. This future marshland is a challenge and Malcolm and Burk have poured their blood, sweat, and tears into the land to produce a very realistic basis for the marsh.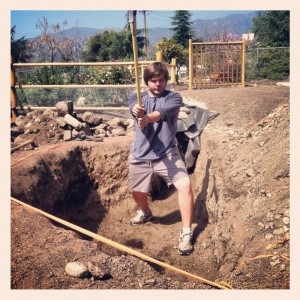 Thus, we had completed a full week's work. In addition to being thrown into a team-oriented work environment, we have also enjoyed a week of living communally in the WWOOFing den, a section of the house with plenty of open space, a communal kitchen, and two bathrooms. With the 3 of us all being from the East Coast, we have enjoyed adapting to the desert climate together and bonding over the small (but noticeable) cultural and geographical differences between the South/East and Southern California.
In addition to living closely together, we also share many meals together. Malcolm, our resident expert chef, has provided us with delicious freshly baked bread many mornings.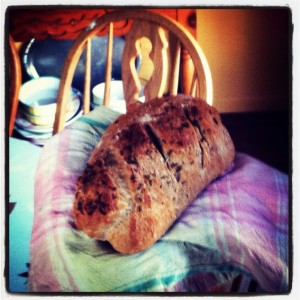 As Sunday evenings are scheduled as our meditation and worship times, this past Sunday the WWOOFers provided the house with a community dinner of: Grilled Chicken, Roasted Vegetable Mix, Rosemary Bread with Garlic Butter, and Spring Salad with fresh oranges and strawberries. The dinner was filling, delicious, and gave the week a very good "closing point" before we entered meditation.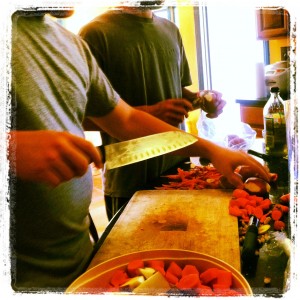 As we ended the week in meditation, we were able to cleanse our minds and bodies of the week's physical duress, preparing for another week of work under the sun to create a living, organic, and sustainable environment. This is the only goal, to provide years of food production and environmentally friendly practices to contribute to our community and our world.