Blog
Current and Previous Myrahouse Residents' Reflections
Click here to view our resident's reflections in PDF Format
_________________________________________________________________________________________
Father-Son's 500/40 Backpack Trek
Once upon a time, there was a boy living in East Asia who had many dreams about what he wanted to be when he grew up. As he grew older, it became obvious which path he should choose.

He found fascination with the look and sound of the violin. Without hesitation, he signed up for the class and began learning how to play the violin. He really liked playing it so he practiced a lot. He wanted to be a great violinist. Yet, he had to let go this dream because his dad disapproved, assuring him that playing the violin wouldn't make a living.
After some thought, he decided instead to become an army general. .When he finished high school, he applied to the Military Academy and passed all the necessary exams. Yet, he had to let go of this second dream because he was denied admissions in the final interview.
Click Here To Read More
_________________________________________________________________________________________
A message for Lydia and James' Wedding
| | |
| --- | --- |
| | What a special day today! How precious this moment is! My only daughter Lydia is getting married. I am celebrating her wedding ceremony as an officiant. Is there anybody here who has officiated for their only daughter's wedding? [You might know exactly what I am going through at this moment]. It is a once in a lifetime opportunity. Not many people have this privilege. I am exceptionally gratified! I am so thankful to the Claremont United Methodist Church Congregation, Rev. Sharon, Rev. Dan and the Claremont church staff for their unreserved support in helping to make this event possible. This wedding ceremony marks a new beginning of life-together for Lydia and a great man, James, officially my son in law in the next few minutes, if everything goes to plan. This ceremony also marks a new beginning for the Rogers and Sohns to become 'One' new family. |
Click Here To Read More
_________________________________________________________________________________________
TRANSFORMING LAND and SPIRIT
July 20, 2012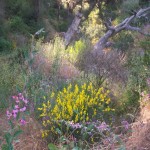 How surely gravity's law, strong as an ocean current, takes hold of even the smallest thing and pulls it toward the heart of the world.
Each thing- each stone, blossom, child- is held in place.
Only we, in our arrogance, push out beyond what we each belong to for some empty freedom.
If we each surrendered to earth's intelligence, we could rise up rooted, like trees…
-'Wenn etwas mir vom Fenster fallt' from Rilke's "Book of Hours (Love Poems To God)"
Click Here To Read More
_________________________________________________________________________________________